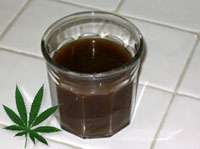 Green Dragon is an alcoholic THC drink which is brewed by going through heating and distilling processes. It is made with a mixture of weed and high proof alcohol. You can use Green Dragon to 'spike' your own drinks, food or even bud but watch out because this is some powerful shit! This recipe is brought to you by
Ingredients
Weed
150% Proof Alcohol or Higher
Vapourizer /Oven
A Bottle
A Siv
Preparation
Activating the Weed
The chemical bonds of the THC must be broken. There are several methods of doing this one of which is quickly firing it up in your vaporizer for a few seconds without smoking it or you can just crisp it up in the oven for 10 minutes on 200 Fahrenheit.
Alcohol
As long as it has a high alcohol content you can use it. We recommend 95% cooking alcohol or another nice alcohol to use would be Bacardi 150 proof. Place the buds in the alcohol in a bottle, we recommend using one shot of alcohol per gram of bud.
Storage Time
Store the juice is a warm dark place for a minimum of six weeks, shaking it every so often to loosen all that THC. An ideal place is under a counter inside your kitchen cabinets. Make sure to let the mixture sit long enough for all the THC to be absorbed into the alcohol.
Consumption
When it's ready, it should be a dark green color and smell of herbal vodka. Then make sure to siv out the bud before use. We warn you do not exceed consumption as the alcohol content is of a dangerous level. Two shots will knock you flat out and get you pretty high, otherwise experiment mixing the green dragon juice with other drinks and make a nice cocktail out of it.
Other Interesting Articles