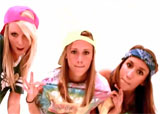 Choosing the right sorority can be very hard. Every girl is trying to convince you to join their sorority over all the others. It's like you are the most popular girl at the party with everyone giving you attention. These girls from Baylor University in Texas have put a whole new spin to their rush process.
About Kappa Kappa Gamma
The sorority Kappa Kappa Gamma is one of the oldest and largest Greek-letter sororities in existence. This music video came out in late 2010 and quickly became popular at college campuses around the country. This is the second video these girls have put out and they're damm good. The song is really catchy and the video was put together well too. For a plus, these girls are some hott sorority girls. Not so bad on the eyes.
Music Video