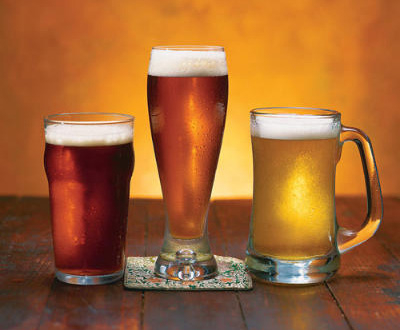 Beer is the oldest and most widely drunken alcoholic drink in the world. It is produced by the brewing and fermentation of starches, mostly made up of cereal grains. There are many different types of beers but the main categories end up being Lagers, Ales, Wheat Beers, Stouts and Lambics.
Beer Drink Recipes
Baha Fog
1 can Beer
2 oz Tequila
1 Lime
Beer Top
1 can Beer
2 oz 7-Up Soda
Boilermaker
Dark Side of the Moon
Half Guinness
Half Blue Moon
Dog Piss
1 can Beer
3 oz Vodka
4 oz Southern Comfort
Dr. Pepper
Half glass Beer
Half glass Coca-Cola
1 oz Amaretto Almond Liqueur
Jagerbeer Bomb
One bottle Beer
1 shot Jagermeister
Russ "Russian"
Half Weißbier (Wheat Beer)
Half Lemonade
A sothern Germany mixed beer drink.
Wife Beater
1 can Beer
1 shot Tequila
1 shot Whiskey
1 shot Vodka
Mountain Dew
Half glass Beer
Half glass 7-Up Soda
1 oz Midori Melon Liqueur
StrawBeerita
3 oz. chilled beer, lighter-style lager
1 oz. Licor 43
1 oz. tequila
1/2 oz. lime juice
3 Strawberries
Lime
Pink Panty Dropper
18 cans Beer
1 bottle Everclear
1 bottle Tequila
1.5 jugs Pink Lemonade
Radler "Cyclist"
Half Pilsner Beer
Half Lemonade
A German drink invented in Munich made to be refreshing while still drinking some beer.
Other Interesting Articles
Tried any of these mix? Do you have a drink idea? email us with the pictures: