Beach Party
By: The Costume King
Nothing screams perfection like a day spent ocean-side on the pillow-like white sand of a tropical location. Unfortunately, few college campuses are within the vicinity of those dream worthy sandy beaches. If you refuse to submit to idea of not being able to tan at the edge of the ocean's tide, then the Beach Party should be your theme of choice. This simple concept can make way for far more then just a time to remember, but rather a night that's impossible to forget - assuming you don't drink yourself into a coma like a jackass.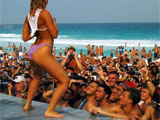 Setting Up
The set-up for a beach party should be fairly simple, as the bulk of the party thrives off of the attire. While you won't be able to simulate a beach to the fullest (unless you can sneak in several tons of sand without campus authorities giving a shit), there are several small touches that you can utilize to create that "beach" atmosphere. Paper lanterns, though a bit weak in the lighting department, are an essential touch to any beach-themed party. Scatter them throughout the dorms and common areas, and while you'll still feel like you're on the same dull campus grounds, you'll at least feel a little tropical. You can also spread out some beach towels that you and your dorm mates can use to get to know some of your fellow student body (and your fellow student's bodies).
Your selection of alcohol at the beach party needs to extend beyond the norms of dorm life. Kegs and an array of bottled beer and vodka shots won't cut it for this themed bash. Rather, you'll need to shell out a little more of your leftover financial aide money to create more tropical beverages.
For that effective tropical feel, ontop of a varying assortment of fruit liquors, your drink menu should include:
Menu:
Pina Colada
Sex on the Beach
Daiquiris
Margaritas
Long Island Iced Tea
Sea Breeze
Mimosas
What to Wear?
As stated before, the bulk of the beach party theme comes into play with the attire. Formal wear and day-to-day clothing can be tossed aside for that sexy beachwear. This party is the perfect excuse for the campuses tanned and toned beauties to scamper around in their favorite bikini. If the party gets a little out of hand, you could even declare this "beach" European, which gives party-goers the option of roaming topless. While the female body attending the party can practically wear whatever they feel comfortable in, there need to be some rules set for the male portion of the party.
Speedos are not an option – no exceptions. No matter how bad one may want to show off "what they're packing", Speedos are an unforgiveable article of clothing acceptable only in a swimsuit model photoshoot. Any guy that shows up to the party thinking he's Speedo-worthy should be immediately extricated.
Send Us Your Party Photos
If you've thrown a party with this theme, please email us the photos along with your consent to use your photos on our website. We will publish it here.
Other Interesting Articles