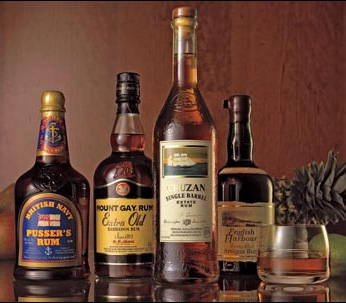 Rum is a distilled beverage made from molasses and sugarcane juice by a process of fermentation and distillation. The distillate, a clear liquid, is then usually aged in oak and other barrels to give it the darker look. Most of world's rum production occurs in and around the Caribbean and in several Central American and South American countries.
Rum Drink Recipes
Adios Motherfucker
1/2 oz Rum
1/2 oz Vodka
1/2 oz Tequila
1/2 oz Gin
1/2 oz Blue Curacao Liqueur
2 oz Sweet & Sour
2 oz 7-Up Soda
Ice
Bacardi
9 parts Bacardi White Rum
4 parts Lemon or Lime Juice
1 part Grenadine Syrup
Bajan Rum Punch (Barbadian)
1 part Lime Juice
2 parts Sweetener
3 parts Rum
4 parts Water
"One of Sour, Two of Sweet, Three of Strong, Four of Weak."
Brass Monkey
1 part Dark Rum
1 part Vodka
1 part Orange Juice
Caribou Lou

Bacardi 151
Malibu Rum
Pineapple Juice

Cuba Libre (Rum & Coke)

1 part Rum
2 part Cola
Few Drops of Lime or Lemon Juice

Dick-in-the-Dirt

Peach Schnapps
Bacardi 151 Proof Rum
Southern Comfort
Yukon Jack
Pineapple Juice
Cranberry Juice
Grand Marnier
Daiquiri
9 parts White Rum
4 parts Lime Juice
1 part Gomme Syrup
Long Island Iced Tea
3 parts Vodka
3 parts Tequila
3 parts White Rum
3 parts Triple Sec
3 parts Gin
5 parts Lemon Juice
6 parts Gomme Syrup
Dash of Cola
Mojito
1.25 oz Rum
12 Mint Leaves
1 tbsp Sugar
0.5 oz Lime Juice
2 oz Soda
Mudslide
Malibu Rum
Kahlua
Irish cream
Milk
Piña Colada
1 part White Rum
1 part Coconut Cream
3 parts Pineapple Juice
Blend or mix with crushed ice until smooth.
Optional: garnish with a pineapple slice or a maraschino cherry
Staten Island Ferry
Malibu Rum
Pineapple Juice
Other Interesting Articles
Tried any of these mix? Do you have a drink idea? email us with the pictures: