10 Minutes Before a Porno
By: The Costume King
You're going to try and deny it, but ever since you became a college student, porn has become a part of your daily routine. Whenever your roommate slips away, you pull out your computer and log onto a site that you've inevitably checked more times then your e-mail. That's cool, though, and there's nothing to be ashamed of; but why not put that porn obsession to use for the next party you're planning on throwing. With the 10 minutes before a porno theme, you can easily combine your love for partying and your love for porn and not seem like a weirdo!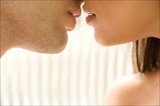 Setting Up
So, what goes into setting up 10 minutes before a porno? While a lot of it comes in to the "What to Wear" section, there are a few things you can toss around to visually set the mood. We're all adults here, so why not set the tone by condoms - or if you'd rather not instigate anything, condom wrappers - all about. Maybe even a sex toy or two, handcuffs, anything that will let people know that this isn't any sort of kids party.
Your musical selection for this bash isn't going to be anything tradition. You'll want to pull some classic porn soundtracks. Some light saxophone to help set the mood. Jazz is already a good aphrodisiac, so that can be your go to if you can't find any traditional porn tracks.
You'll want to help everyone loosen up, so be sure to serve some strong drinks. Pick out a few cocktails of your desire; though choosing those with sexual names, such as Sex on the Beach, won't hurt one bit. You can invest in a little champagne as a celebratory drink for the anticipated money shot, but it certainly isn't necessary.
What to Wear?
This is how your party is going to get its life, through the costumes that people come up with. When deciding what to wear, you want to think of classic porn scenarios:
The Plumber
The Pool Boy
The Pizza Delivery Guy
The New Neighbor (aka The Girl Next Door)
The Lost Cat
The Poor College Student (This may be the easiest to pull off)
The Babysitter
Some ideas for couples:
The Teacher / Student
The Secretary / Boss
The Amateur Couple (Complete with handheld camera)
The list goes on and one. If you or your guests want to pull off the "Lost Cat" porno, it's as easy as making a "Missing Cat" sign and throwing on a provocative outfit that shows quite a bit of skin. You don't have to be near nude, of course. You're not actually going to be filming a porno; but think of the outfits that usually instigate these scenarios.
If you really want to get creative, think of the individuals behind the scenes. Sure, it may take little more than a name tag that says "Camera Man" or "Fluffer" to get the point across, but it's going to show that your creative juices - and maybe more - are flowing.
Send Us Your Party Photos
If you've thrown a party with this theme, please email us the photos along with your consent to use your photos on our website. We will publish it here.
Other Interesting Articles