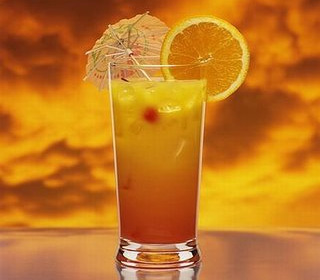 Tequila is a Blue Agave-based spirit made primarily in the area surrounding the city of Tequila, Mexico. Tequila is most often made at 80 proof, but can be produced between 70-110 proof. Most distillers will distill to 100 proof and then cut it down with water to reduce its harshness. The most respected brands distill the tequila right to 80 proof.
Tequila Drink Recipes
Forty-Thrita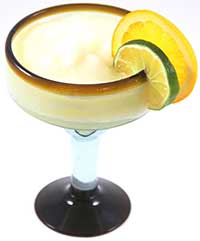 2 parts Licor 43
2 parts tequila
6 parts sour mix
Orange or lime wedge
Salt (optional)
6-Shooter
1/3 oz Tequila
1/3 oz Kahlua Coffee Liqueur
1/3 oz Butterscotch Schnapps
1/3 oz Amaretto Liqueur
1/3 oz Cinnamon Schnapps
1/3 oz Bailey's Irish Cream
Chimayó
1 1/2 oz Tequila
1 oz Apple Cider
1/4 oz Lemon Juice
1/4 oz Creme de Cassis
Cranberry Margarita
1 1/2 oz Tequila
1 oz Lime Juice
1 1/2 oz Triple Sec
1 1/2 oz Sweet and Sour Mix
2 oz Cranberry Juice
Blend with ice.
Fancy Margarita
7 parts Tequila
4 parts Triple Sec
3 parts Lemon or Lime juice
Shake with ice and pore into a salt-rimmed glass.
Four Horsemen
1 Part Tequila
1 Part Jagermeister Liqueur
1 Part Peppermint Liqueur
1 Part Bacardi 151
Pour contents in shaker over ice and shake well. Pour into glass.
Italian Margarita
1 oz Amaretto Almond Liqueur
2 oz Sweet & Sour Mix
1/2 oz Tequila
1/2 oz Triple Sec
Pour into a margarita glass and stir. Add ice cubes.
Jell-O Margarita
1/2 cup Tequila
1/2 cup Margarita Mix
1 cup Boiling Water
1 package Jello
1 slice Lime
Mix ingredients together while stirring. Once everything dissolves, chill till it sets.
43 Vanilla Margarita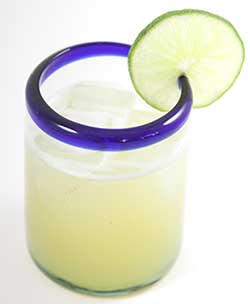 3/4 oz. Licor 43
3/4 oz. tequila
1-1/2 oz. fresh lemon juice
3/4 oz. simple syrup
Lime wheel
Marcelita
1 oz Tequila
1 oz Alize Red Passion Liqueur
1/2 oz Cointreau Orange Liqueur
1 oz Lime Juice
1 oz Orange Juice
1 oz Cranberry Juice
Shake with ice and pore into a salt-rimmed glass.
Tequila Sunrise
3 parts Tequila
6 parts Orange Juice
1 part Grenadine Syrup
Tequila Sunset
3 parts Tequila
6 parts Orange Juice
1 part Blackberry Brandy
Other Interesting Articles
Tried any of these mix? Do you have a drink idea? email us with the pictures: