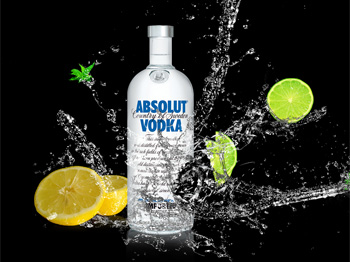 Vodka is one of the world's most popular liquors and is composed solely of water and ethanol with possible traces of impurities and flavorings. The standard vodkas are 80 proof and are made of grain, rye, wheat, potatoes, or sugar beet molasses.
Vodka Drink Recipes
Appletini (Apple Martini)
3 parts vodka
1 part Apple schnapps
1 part Cointreau
Black Russian
2 parts vodka
1 part Kahlua
Serve on the rocks.
Bloody Mary
3 parts Vodka
6 parts Tomato Juice
1 part Lemon Juice
Worcestershire sauce, Tabasco, salt and pepper
Optional garnish with Celery and lemon wedge
Cosmo (Cosmopolitan)
2 to 3 parts Vodka
1 part Cointreau
2 parts cranberry juice
1 part Fresh-Squeezed Lime Juice
Optional garnish with lemon slice
Hairy Navel
1 PartVodka
1 Part Peach Schnapps
6 parts Orange Juice
Lemon Drop
1 oz Citrus-Flavored Vodka
1 oz Lemon Juice
1 tsp Sugar
Shake with ice and strain into a suger rimmed shot glass. Sweet and Sour mix can be used as a substitute for Lemon Juice.
Screwdriver
1 Part Vodka
8 Parts Orange Juice
Sex On The Beach
2 parts Vodka
1 part Peach Schnapps
2 parts Orange Juice
2 parts Cranberry Juice
Vodka Martini
5 parts Vodka
1 part Dry/Sweet Vermouth
White Russian
5 parts Vodka
2 parts Kahlua
3 parts Cream
Other Interesting Articles
Tried any of these mix? Do you have a drink idea? email us with the pictures: