Lingerie Party
By: The Costume King
The concept of the lingerie party has been on that men dream of from the moment they realize breasts exist. The only problem is that a true lingerie party is gals only and is typically used to sell lingerie. Being a college party, though, you may be able to break tradition and turn it into a co-ed. Depending on what kind of lingerie party you're throwing will determine what kind of set-up you'll have to go through.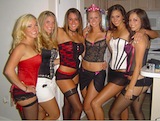 Setting Up
Girls Only
For your "girls only" lingerie party, you'll really be guaranteeing yourself that just about every one of your guests will show up in lingerie. For this party, as the "host" you'll want to invest in some spare lingerie that you'd have no problems parting with. Turn it into a small fashion show with the potential for your guests to buy the lingerie that you've displayed.
The entertainment for this party can stretch beyond the concept of seeing your friends try on and buy different lingerie. Don't hesitate to hire a male stripper to give the party that extra oomph. It may break that "girls only" rule, but the constant gyrations and thick muscles are more than worth breaking rules for.
Co-Ed
A co-ed lingerie party may be less sexy than a girls only party as some girls may be out of their comfort zone by showing up in their negliges. To help some of your guests loosen up, present them with plenty of alcohol.
Unlike other themed parties, there's not much you can do to prepare for this theme. Feel free to throw out a few pillows and give the room a "sexy" atmosphere with candles, but surely you can guess what could happen with drunken college students around hot wax and fire.
What to Wear?
Girls Only
It shouldn't take too much brain power to determine what people should wear for the lingerie party. For that straight up "girls only" affair, your guests can show up in anything ranging from the bare minimum bra and panties to a sexy robe covering a teasing teddy. The party's guests should be more comfortable in their own skin if there are no guys present, but the possibility of something scandalous happening is greatly lowered.
Co-Ed
The co-ed party could wind up being more fun even if a few of your female guests don't show up wearing proper attire. Girls and guys can swap outfits throughout the night, leaving the girl to wear a wife beater and boxers and the guy to be stuck wearing a rather unflattering display of stuffed boy shorts or a thong. Before you decide what kind of lingerie party you want to have, think first of what your eyes can handle.
Send Us Your Party Photos
If you've thrown a party with this theme, please email us the photos along with your consent to use your photos on our website. We will publish it here.
Other Interesting Articles