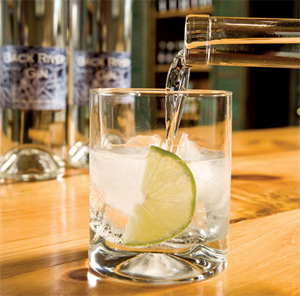 Gin is a spirit whose main flavor comes from juniper berries. There are two main types of Gin which are Distilled Gin and Compound Gin. Distilled gin is made the traditional way by re-distilling neutral spirit of agricultural origin with juniper berries and other botanicals. Compound gin is made by flavoring neutral spirit with essences and other natural flavorings without re-distillation.
Gin Drink Recipes
Adios Motherfucker
1/2 oz Gin
1/2 oz Vodka
1/2 oz Tequila
1/2 oz Rum
1/2 oz Blue Curacao Liqueur
2 oz Sweet & Sour
2 oz 7-Up Soda
Ice
Alexander
1 part Gin
1 part Creme de Cacao
1 part Half & Half
Mix in a cocktail shaker with ice
Dirty Martini
5 parts Gin
1 part olive brine
1 part vermouth
Gin and Tonic
1 part gin
1-3 parts tonic
Long Island Iced Tea
3 parts Vodka
3 parts Tequila
3 parts White Rum
3 parts Triple Sec
3 parts Gin
5 parts Lemon juice
6 parts Gomme Syrup
Dash of Cola
Martini
5 parts gin
1 part dry/sweet vermouth
My Fair Lady
1 part Gin
1 part Lemon Juice
1 part Orange Juice
1 part Gomme Syrup
1 dash of egg white
Orange Blossom (Gin & Juice)
1 part Gin
1-3 parts Orange Juice
Pink Lady
1 part Gin
1 tsp. Grenadine
1 tsp. Cream
1 Egg White
Salty Dog
2 parts gin
5 parts grapefruit juice
Shirley Temple Black (Dirty Shirley)
Gin
Ginger Ale
Grenadine Syrup
Orange Juice
Optional garnish with a maraschino cherry and a slice of lemon.
Smoky Martini
Gin
Splash of Scotch Whiskey
Stir and garnish with a lemon peel
Vesper (Casino Royale)
6 parts Gin
2 parts Vodka
1 part Lillet Blanc
White Lady
2 parts Gin
1 part Cointreau (or Triple Sec)
1 part Lemon Juice
Other Interesting Articles
Tried any of these mix? Do you have a drink idea? email us with the pictures: