Pimps and Hoes
By: The Costume King
If you've got yourself a strong pimp hand, then this college party theme is perfect for you. Though the pimps and hoes theme party may seem to be a little degrading to women, it gives the guys a chance to dress up in those utterly ridiculous outfits without people looking at them weird! Also, the gals get to wear as little clothing as possible to fit well into their role as their pimp's ho. It's like a costume party – just with a lot more degradation.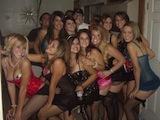 Setting Up
What the hell is there to say about this party? It's mostly all in the way people dress. Second to how people dress up, there is the beverage list. It's all a matter of what you can picture a pimp and his ho drinking. Surely, they wouldn't share the same tastes, as the pimp is more likely able to afford higher end liquor, so you will want to try and have a diversity of drinks.
It has absolutely no alcohol in it, but if you can get your hands on the Australian-based "Pimp Juice" energy drink, than you can easily make a variation of vodka and Red Bull. Unfortunately, the only place to find Pimp Juice is through an Australian retailer, which requires an e-mail from out-of-country costumers for details on availability.
Other beverages you may want to have on hand are Cognac and Amaretto. They are classic liquors that just go so well with the concept of a Pimp. Pour a glass of either for each pimp as they enter the room to let them look the part even more. For the ladies, you may want to go for something a little brighter and a little sexier - something that will compliment the inevitably obnoxious outfits that their pimp counterparts will be wearing. Appletinis, cosmopolitans, and other fruity drinks like that will work, just be sure to amp up the alcohol levels a little bit. These are girls from the street – they can handle their liquor. Now, onto the meat of this bash – What to Wear
What to Wear?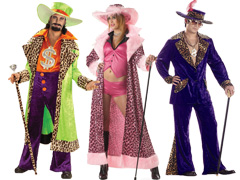 Go to Google Image Search and type in "Pimp Costume". That's the easiest way to find a pimp getup for this affair. The stereotypical pimp outfit typically consists of some form of shiny, bright buttoned down shirt (sometimes even animal print), a long velour jacket with pants to match, and one of those massive feathered hats. Expect a lot of this at the pimps and hoes party, as this is how we will always envision pimps. Where variety really comes in is in the color of the outfit. From bright pink to lime green, these costumes and outfits can be found in all various styles. Animal print, stripes, checkered, polka dotted – once you start looking, the options are truly limitless. Whatever you do, don't forget the cane!
Hoes, on the other hand, have a little more freedom when it comes to their outfits. You can go modern hoe, which has plenty of similarities with how most girls dress today, or you can go back in time a little. Check out the beginning of Pretty Woman to get a sense of how you should go about dressing if you're going for a more 1990's look. Essentially, it'd be fishnets, ankle-high boots, belly shirts, and short shorts. It's an easy look to pull off, so you shouldn't have to go too crazy arranging it.
Send Us Your Party Photos
If you've thrown a party with this theme, please email us the photos along with your consent to use your photos on our website. We will publish it here.
Other Interesting Articles