White Trash
By: The Costume King
Celebrate the south, trailer parks and Wal-Mart parking lots. Don't worry about being trashy; grow out that mullet and start stocking up on Bush light Beer because it time to throw a White Trash party!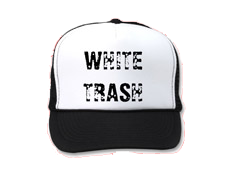 Setting Up
It's time to transform your nice digs into a trailer trash park! One of the best parts for setting up for this party is that decorations are very cheap. When picking decorations remember that the tackier the better! To start finding white trash decorations all you need to do is go to junk stores, thrift stores and flea markets. For seating set up lawn chairs and an old couch. As decoration hang socks, t-shirts, bras and underwear on a cloth lines. Also, put up posters of swimsuit models and race cars.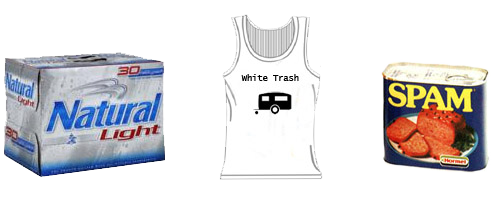 Food and Drink
Nothing says white trash better then cheap food on paper plates with cheap beer. For food have Cheese Whiz with crackers, Spam, chips and dip, pork rinds and mini wieners. These are all cheap to buy and are stereotypical white trash foods. As far as drink you can never go wrong with cheap beer and punch. Some of the best cheap beers for this party are Milwaukee's Best, Keystone Light, Bush Light and Natty Light.
Music
To complete this party you really need to make sure you have the right kind of music. Make a playlist that features lots of country music and southern rock. Some artists to think about adding are Kid Rock, Springsteen, Van Halen, Black Sabbath, ZZ Top, Lynyrd Skynyrd and John Cougar Mellencamp.
What to Wear?
Guys:
It should be real easy for most guys to dress up for a white trash party. Guys just need a wife beater t-shirt, blue jeans, work boots and an old greasy baseball cap. If you want to stand out in the crowd get a mullet wig and a mechanic's shirt with your name stitched on it!
Girls:
For girls is shouldn't be too hard to make your own costume. Dress up with tacky jewelry, caftans, dirty acid-washed jeans, cut offs, old white tank tops, visible underwear, cowboy hats, big belt buckles, or alcohol promotional t-shirts and hats. Put on lots of heavy, cheap eye makeup and lipstick. For your hair do it up in a big style with curlers or make it look like a mullet
Send Us Your Party Photos
If you've thrown a party with this theme, please email us the photos along with your consent to use your photos on our website. We will publish it here.
Other Interesting Articles