Rubik's Cube
By: The Costume King
A Rubik's Cube Theme Party is where everyone comes to the party with as many same color cloths as possible with the intent of leaving the party with as many different colored cloths. Essentially by the end of the night each person at the party is colored in so many different types of clothes that they look like a messed up Rubik Cube.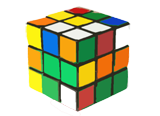 What to Wear?
You need to come to the party in one color of clothing. Wear clothes that you wouldnít mind losing or getting rid of. If you donít have many clothes that you would mind loosing then head down to your local goodwill to help a good cause in the process. Deck it out, donít come in just a shirt and pants being the same color but really go all out with accessories, a hat, gloves, ect..
At the Party
Everyone at the party goes around trading clothing to make themselves dressed in the most ridiculous look of the whole party. You might just want to call this theme party a legitimate way of having a stripping party. You get to strip someone as they strip you and then put on the other personís piece of clothing. Have fun with it and let the crazy times roll on!
Send Us Your Party Photos
If you've thrown a party with this theme, please email us the photos along with your consent to use your photos on our website. We will publish it here.
Other Interesting Articles