Colonial Bros and Navahos
By: The Costume King
When you were stuck in high school learning about the colonial times in the Americas, chances are you didn't jump out of your seat and say and exclaim that you just came up with this great idea for a party. You may not have - but apparently somebody has. With Colonial Bros and NavaHos, you'll be bringing a little bit of America's history into the college forefront with a whole helluva lot of liquor.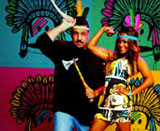 Setting Up
How does one set up for the Colonial Bros & NavaHos party? The Navajo aspect of the party is actually quite simple. All you need to do is get your hands on some decorated leather animal hide, some funky pottery, and the right attire (which we'll get to later). Navajo Indians decorated their huts with what we would consider woven throw rugs today, so if you can pick up anything that looks to be a handmade Native American piece (and really, they're not that hard to find if you're scour the internet). If you decorate the inside of your event location with this decor and throw in a few real or toy tomahawks, than you're halfway to a good time.
To infuse that taste of Colonial America with your Navajo decor, your best bet is to find replicas of the 13 starred American flag. Being the best way to represent the 13 colonies, these flags can be found for fairly cheap on sites like Ebay. Outside of the blatantly historic American flag, if you want to extend your decor even farther, you're going to be looking at adding some rustic / character-filled furniture, and that can get pricey for such a potentially one-time event. You can find decor made out of material that looks like the 13 colony flag, so you could certainly find something to place atop the bar.
In terms of the most important aspect of the night, the alcohol, you can keep things a little more modern. Stick to liquors and mixed beverages you know rather than trying to recreate some more historic beverages.
What to Wear?

Attire for this party can be rather interesting. The men will be dressed in some of the most god-awful looking clothing. Many, if not all, costume shops will have some form of authentic looking colonial attire. Complete your look off with a "powdered" white wig and long vest and coat. The best coat you could find would be adorned with numerous buttons and cuffs that roll back to your elbows. Throw on a pair of buckled shoes, long socks, and a tricorn hat and you'll be transporting yourself into history before you know it.
For those sexy NavaHos, the attire can range from very basic to very flashy. Navajo's were not keen on showing cleavage, so to get that sexy Indian look, you'll want to find your outfit in your basic costume shop. For authenticity, you'll want to go with a leather wrap or dress. Material and patterns for "costumes" like this can be found in most craft stores. You can cheat, of course, and just throw a few feathers into your hair and toss on a pair of moccasins, but lets try to go for authenticity to do these parties justice!
Send Us Your Party Photos
If you've thrown a party with this theme, please email us the photos along with your consent to use your photos on our website. We will publish it here.
Other Interesting Articles