Aprilween Party Theme
By: The Costume King
Somewhere along the line, the concept of "Christmas in July" became a popular one, so much so that there are small boutiques that revolve around that concept alone. Following in the twisted footsteps of celebrating a seasonal holiday completely out of season is Aprilween. As the name suggests, Aprilween is a celebration of All Hollows' Eve in April; and while the faux holiday may not be accompanied by the typical Autumnal weather that Halloween is known for, the f@#%ed up traditions that the holiday is known for are more then present.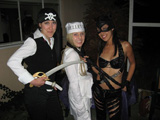 Setting Up
There shouldn't be a living soul on campus that needs help setting up for a Halloween party, but stranger things have happened in the world. What most people recognize Halloween for is the "spooky" factor, so basic decor like spider webs and creepy black clothe are nice touches to any setting. Since you won't be dealing with any children's party, you'll have the option to make things as gruesome and grim as you'd like.
One popular Halloween environ is the blood-splattered "dungeon", where the severed body parts of previous unfortunate prisoners can be strewn about. Though it may not give that "sexy" allure that most college parties have, it's quite easy to associate dungeons with a BDSM theme. To create the lighting for a dim dungeon, you can invest in battery-powered lanterns that will give off only the softest glow. Fake chain links are easily accessible at any online Halloween retailer and can be attached to any wall to give the allure of shackles. To go that extra mile, you can also purchase wall cling scrolls that offer the look of dungeon brick. Toss a little theatrical blood on these scrolls, and you've got yourself an effective torture dungeon.
Since this party is a Spring-time variation on a holiday known to be based on horror, another theme you can go with is a mutilated meadow. The biggest pull of this party will be in the costumes worn, so you shouldn't have to go crazy racking your brain for décor ideas. You'll want to give the allure that something isn't right with this year's spring season, so why not pick a few seasonal flowers (or go the fake flower route) and spray paint them a deep black. Make use of some dead flowers you could find around campus and spruce them up with a little blood spattering. Since spring is the season where insect life starts to get more active, don't hesitate to purchase mutant-sized variations of some of Mother Nature's finest. Oversized insects can be found at any on-line Halloween retailer and can bring out those squeamish fears from your fellow classmates.
What to Wear?
Halloween is one of the biggest fashion days of the year; if ever your outfit needed careful planning and precise execution, it would be for Halloween – and, of course, Aprilween. Due to the nature of the holiday, your attire can be comprised of anything ranging from a swashbuckling pirate to a rotting creature from the underworld. Since this is spring, though, you may want to stick to twisted variations of some spring time favorites. Being in the vicinity of Easter, some may find it appropriate to mutilate an innocent bunny costume and create a hare from hell. This party is also the perfect opportunity to wear as little as possible, as the weather is most certainly on its way to warming up a bit. No matter what you wear to this bash, though, you'll want to accomplish that perfect mixture of horror and sex that will make you stand out amongst a veritable cast of characters.
Send Us Your Party Photos
If you've thrown a party with this theme, please email us the photos along with your consent to use your photos on our website. We will publish it here.
Other Interesting Articles