Halloween
By: The Costume King
Who said Halloween is only a time for little kids to go trick-or-treating? In college life a Halloween party is the ultimate theme party because everyone has to dress up! Halloween is the perfect excuse for girls to dress a little scandalous without being labeled as a slut. Below is all the details you need to host a Halloween Party!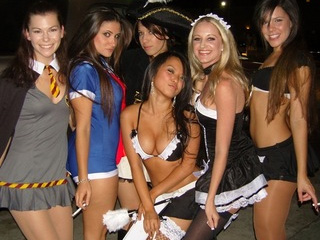 Setting Up
When the weekend of October 31st rolls around the college party sense is at its peak. Everyone wants to go out for Halloween, so why not throw your own party? When throwing your own party you can decide to just make it a costume party or you can deck your whole place out with Halloween decor. You can decide how much or how little you wish to decorate your place but here are some of our recommendations.
First off, make sure to decorate your place out with all of the traditional Halloween decorations. Run down to a Halloween store to pick up some fake cop and spider webs. This is the easiest and the best way to transform a crappy college apartment into a place with an eerie haunted atmosphere. Other easy stereotypical items you can pick up are tomb stones, bats and ghosts.
Now the real way to separate this party from all the others is to light the place up with some black lights and to hang black sheets on the walls that are splattered with fluorescent red paint. This is sure to add a creepy vibe to the room and with black lights on it will make for the right mood. Another idea is in the background, playing on mute, you can put on a scary movie. Any movie like The Ring, The Exorcist or Psycho will all add the effect you are looking for.
Alcohol
No party would be complete without alcohol and Halloween is no exception. There are many ideas on how to take tradition party drinks and add a little Halloween vibe to them. One idea is to make Red Jello Shots and all you have to do is to use a red packet of Jello. Take a look at our drink section in order to learn how to make Jello Shots. Another simple idea is to make Orange Jungle Juice which you can also find the recipe to in our drinks section. For a smaller get together you can make Bloody Marys for all your guests. The recipe to that drink is in our Vodka Recipes section on our drinks page.
What to Wear?
Everyone has to dress up for Halloween and the ideas are endless. The key is to use your imagination while thinking what could be fun and exciting to wear. Dress as something funny, get inspiration from a new movie, and most important be unique! We have a basic list below to help you get started. One last tip is as a party host a great way you can keep everyone engaged is to have a contest for the best costume and give out a bottle of booze as the prize. Party on!
Costume Ideas:
Doctor and Nurse
Naughty Nuns and Preachers
Hugh Hefner and Playboy Bunnies
Mexican Senor and Sexy Senorita
German Lederhosen and Dirndl
Angels and Demons
Adam and Eve
Freshman or Teacher
Famous Sports Star
Famous TV or Movie Star
Send Us Your Party Photos
If you've thrown a party with this theme, please email us the photos along with your consent to use your photos on our website. We will publish it here.
Other Interesting Articles