Garden of Eden
By: The Costume King
Everybody at some point in time has sought out a tranquil paradise. What could be more tranquil than the infamous Garden of Eden? Mix a little bit of religious lore with your party by turning it into a celebration of paradise - just try not to get thrown out of it.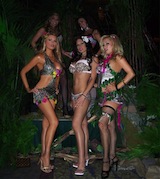 Setting Up
The Garden of Eden is thought to be this tranquil location, filled with lush greenery and vast plains that are visually stimulating to the eye. While you may not be able to mimic the pleasantries of this paradise in your limited party space, you can certainly get an essence of what the garden is known for.
You will want to "green"-up the party space as much as you can, so try to invest in some plant life that you can scatter about. Once satisfied with your selection of greenery, you'll want to decorate these with a few adornments. Seek out some plastic or rubber snakes to nestle within the branches of your plant life to act as the watchful eye of Satan. To the branches of some of these trees, you'll want to tie real apples for your guests to pluck and sink their teeth into. The fruit may be forbidden, but in this instance. it's all about giving in to temptation.
For your Garden of Eden party, you want the drinks to be light and refreshing - something that seems synonymous with Paradise. Light, fruity beverages - especially those containing some form of apple liquor - will make the perfect accent to your drink list.
What to Wear?
Here is where guests will have the most fun - in the costume department. There are a few choices to decide from - the most obvious of them all being one we will cover last.
For those less-then-enthused about showing too much skin, the costume choice can range anywhere from a plant-like vixen to an apple costume. Not so sexy, of course, but they certainly do fit within the realm of the Garden of Eden. The creative types can show up with a large snake accessory wrapped around their bodies or even with a snake-skin purse in hand. There are some sexy alternatives that can be found at most costume stores that will have you dressed all in green with a snake working its way around your neck.
The real costume for the evening, though, is bound to be the minimal coverings of fig leaves. While public nudity is most likely not something that most people are comfortable with / most likely not legal, try to get the biggest fig leaf you can to cover your naughty bits. Costume shops may sell body suits with fig leaves already attached if you'd like to save yourself some time and trouble. No matter which route you go, your goal for the evening is to make it past the fig leaf for a taste of the forbidden fruit - and I'm not talking about apples.
Send Us Your Party Photos
If you've thrown a party with this theme, please email us the photos along with your consent to use your photos on our website. We will publish it here.
Other Interesting Articles