High School Stereotypes
By: The Costume King
We all remember those high school years that had the clicks of the cheerleaders, the football players and the nerds. What's more fun than throwing a college party mocking at those stereotypes we all know so well? We have some suggestions for what to wear when you decide to throw this as your next party!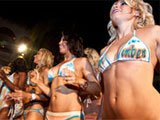 What to Wear?
What were you in high school? Or what did you wish you were? It's time to pull out that old cheerleading costume or that old football uniform! If you weren't a common stereotype, as I am sure most of us aren't, then pull out some of your old clothes that you used to think were cool and rock those.
Costume Ideas:

Cheerleader
Drama Queen
Jock
Band Kid
Preppy
Emo Kid
Nerd
Geek
Skater
Punk
Goth
Cholo
Drama Kid
Tom Boy / Tom Girl
Video Game Dweeb
Roid Ragger
Send Us Your Party Photos
If you've thrown a party with this theme, please email us the photos along with your consent to use your photos on our website. We will publish it here.
Other Interesting Articles