Top Party Schools 2012
By: The Party Guru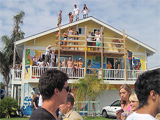 The greek life is wild, the house parties are non stop and the bar scene is out of control; these are the top twenty party schools of 2012. Drinking on the roof everyday, fuck yeah! If you are looking to drink and party your way through your undergrad then one of these colleges is a sure bet for you.
Princeton Review's Top Party Colleges for 2012
The Princeton Review ranks schools every year as they try to determine the best party schools. This year's rankings were based on feedback from over 122,000 college students across the country. Most of the colleges on this this aren't too surprising as they commonly just swap places as they vie for the top party spot. One new item this year is that the Princeton Review also had a list for the "Stone Cold Sober" schools. Guess which school topped that list? Brigham Young University; that's no surprise! Several military academies also make the stone cold sober list as well.
Ohio University
University of Georgia
University of Mississippi
University of Iowa
University of California Santa Barbara
West Virginia University
Penn State University
Florida State University
University of Florida
University of Texas
University of Illinois
Syracuse University
Louisiana State University
University of Wisconsin
DePauw University
Indiana University
Arizona State University
University of Maryland
University of Vermont
University of South Carolina
Other Interesting Articles