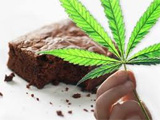 This recipe is sure to make your next party or kickback a little more enjoyable. This basic recipe for making effective and tasty weed brownies is sure to get everyone excited for a good night ahead. In no time you should have some yummy treats for you and all your guests to enjoy. Just follow the instructions below!
Brownie Ingredients
1/2 Cup Cannabutter
1 Cup Sugar
2 Eggs
1/2 Cup Flour
1 Tsp Vanilla Extract
1/4 Tsp Salt
1/3 Cup Unsweetened Cocoa Powder
1/4 Tsp Baking Powder
Icing Ingredients
3 Tbsp Cannabutter
1 Tbsp Honey
1/2 Cup Sugar
1 Tsp Vanilla Extract
3 Tbsp Unsweetened Cocoa Powder
1/8 Cup Milk
Instructions
Heat the oven to 175 degrees celcius and grease a baking tray.
Melt the cannabutter by heating it in a saucepan. Then add all the brownie mix ingredients, mix it all up and pour it into the baking tray.
Bake the brownies for about 10 - 15 minutes but don't over do it.
Mix all the icing mix in a saucepan over a flame until thick and creamy. Pour the icing over the hash brownies while they are still hot.
Leave the hash brownies to set and cool down a bit before chopping them up and serving them.
Other Interesting Articles