80's Lady and Pageant Baby
By: The Costume King
Ladies, this one is for you! Are you an 80's rocker who has a hard time letting go of the music, or are you a primped and proper gal that do a handstand dance to Flight of the Bumblebee? The 80's Lady or Pageant Baby theme party forces you to look at yourself to see who you would more fit in with - the punk rocker from the 80's or the future Miss America. So either throw on your leg warmers or grab your tiara, cuz you're the star of this bash!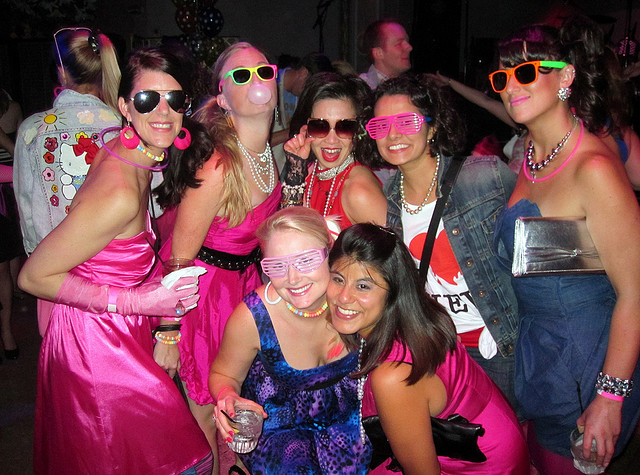 Setting Up
At this party, you will want two completely different themes. On one side of the spectrum, you want to cater to the 80's gals. That means a lot of colors, some homages to cassette tapes, and even a boom box blaring "I Ran" by the Flock of Seagulls. On the other end, you need to have yourself a clean, pristine area - something with a lot of space that will cater to your pageant babies. If you can jerry-rig a stage, you would probably get plenty of entertainment out of your pageant babies showing off.
Your alcohol selection for this engagement is going to be a mix of some classic 80's beverages and something along the lines of champagne and wine. Kamakazies, Long Island Iced Teas, and Peach Schnapps are just some of the easiest ideas to come up with. Serve those in plastic red cups for the 80's ladies and faux champagne glasses for your pageant gals.
You can even dole out drinks based on certain acts that the girls perform. No, not those kinds of acts. If your pageant babies can answer a series of questions, serve them a nice little beverage. Give your 80's gals a chance to belt out a little Cindy Lauper and reward them with an alcoholic swig. It just adds a little touch of entertainment for your guests.
What to Wear?
Here, you need to look inside yourself to see what you see yourself as. Are you an 80's Lady who can sport a hand band, multicolored workout outfit, and leggings? Or is your body fit more for a pageant gown, high heels, and a tiara? You want to make sure you wear your label loud and proud. Nobody is going to want to pay attention to the girl that simply sinks into the crowd!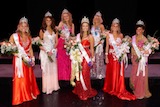 For you pageant babies, you can get creative with the sashes. How about "Miss Disorderly Conduct" or "Miss University Slut"; just something to spice things up and give you a little more character than your prissy counterparts. It's a party, who needs to be formal!?
Send Us Your Party Photos
If you've thrown a party with this theme, please email us the photos along with your consent to use your photos on our website. We will publish it here.
Other Interesting Articles