Fiesta
By: The Costume King
If you've ever been witness to an authentic Fiesta, you know that the Mexican community knows how to throw one hell of a party. Whether filled with close family or an extended mix of friends and acquaintances, a standard Fiesta is amongst one of the more fun parties one would be able to attend in their life. Since your college years are meant to be the best times of your life, you might as well use that as an excuse to throw a party in the vain of a traditional Fiesta - with a few collegiate quirks.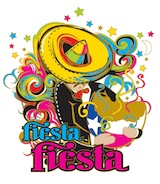 Setting Up
You'll want to get your party space to ooze authenticity when it comes to the preparation of your Fiesta - luckily for you, Fiesta decor isn't anything to write home about. Hop up to any of your local party supply retailers and you should have no problems finding the supplies that you need. From paper lanterns to colorful streams to the coveted pi˝ata, the decor is just the surface of the party. A fiesta gets its spirit more from the people that attend and the drinks that are mixed.
Your drink menu is going to have a centralized theme, and that theme is going to be "spice". If you're going to serve up basic, non-alcoholic drinks (i.e. lemonades and iced teas), you'll want to throw in a splash of something with a kick. Try hot sauce as a beverage accent - you may be surprised by the taste.
Your alcohol-infused drink menu is going to be a bit more standard fare. Tequilas and margaritas will be your base beverages, the rest of the menu simply being an extension of those delicious and refreshing drinks. Different flavors and different styles should be available for your guests to choose from.
What to Wear?
Watch the movie "The Three Amigos" and you should have no issues in coming up with an outfit for your Fiesta. Stick to bright colors in every article of clothing you wear, even if you're sticking with a basic shirt and pants. For authenticity, though, go for a serape, which acts more like a covering that rests on your shoulders and extends to a point at your knees. These gorgeous displays of Mexican culture will be accented perfectly by a large sombrero - the larger the better
As a little fun "costume", the men may also want to look at dressing up as mariachis. They should expect to be asked to sing a local folk song or two if they're looking to be as authentic as possible.
Women attending the party can show up in a flashy dress that poofs off into a row of frills and ruffles at the bottom. Again, much like the men, stick to something colorful and bright. Costume shops also sell a "sexy" variation of the male serape, so those gals that feel the need to flash their cleavage and upper thigh at every second of the day will have something to choose from.
Send Us Your Party Photos
If you've thrown a party with this theme, please email us the photos along with your consent to use your photos on our website. We will publish it here.
Other Interesting Articles