King Tuts and Egyptian Sluts
By: The Costume King
At some point in the lives of most men, the thought of being a ruling leader over a sect of people has seemed like the ideal mode of employment. While it's not a dream that gets to be realized by many people, it's one that can be toyed around with in such places as the bedroom or, say, a dank basement. What if there was a way to fulfill this desire to "rule" the next time you or your dorm decides to throw a party. With the King Tuts and Egyptian Sluts party theme, while your reach of power goes only so far as your balls can take you, you'll at least get the satisfaction of knowing that you're dressed as a king of the Egyptian empire while the ladies around you are probably in numerous forms of near-undress.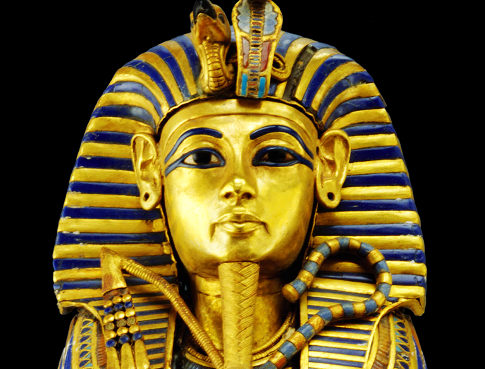 Setting Up
The King Tuts and Egyptian Sluts theme can take some hefty planning if you decide to go all out. It's not every day that you come across Egyptian party supplies, so you may have to be a little creative. Cut styrofoam balls to look like the enlarged Scarab and fill up jars around the room with sand to give the allure of the desert. Surely, you won't be able to incorporate a full-sized pyramid, but you may be able to construct a scaled one out of cardboard boxes. One thing that is pretty easy to come across is a mock mummy. Any Halloween supply store will be able to provide a stiff, wrapped up corpse for you to have adorn your party space.
But, we all know you're not looking to spend too much time decorating. You want to get down to the nitty gritty, the meat and potatoes of your bash - the alcohol. Luckily for you and your party, the Egyptians were known to throw down like a modern day sailor. Beer and wine were often offered to the Gods, so it may be best to honor this ancient tradition by kicking back some brewskies in honor of Osiris or Anubis. You can even get creative with how the alcohol is consumed by purchasing miniature sarcophaguses. From these carriers oft the dead, only the bravest of Egyptian kings will chug back a line of beer or wine. Up the ante a little by filling these vessels with hard liquors, like vodka.
What to Wear?
Egyptian costumes can be found anywhere on the internet. From Egyptian servants and slaves to the youthful King Tut himself, there is no shortage of factory made outfits. Even the gals of this event can show up in slutty Egyptian princess garb.
Men should consider:
Ornate sandals, preferably golden
Egyptian head garb or "king's hat"
Women should consider:
Gold, costume jewelry
Headdresses
The skimpier the outfit, the better
Anyone looking to go the more "authentic" route will want to invest in a lot of worn leather. Vests, straps, pants - if it's made in leather (and we're not talking biker or dominatrix leather, either), you want to find a way to work it into your outfit.
Send Us Your Party Photos
If you've thrown a party with this theme, please email us the photos along with your consent to use your photos on our website. We will publish it here.
Other Interesting Articles