How to Find a Party
By: The Party Guru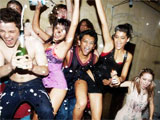 You're pregaming with friends in your apartment when all of a sudden you realize "Shit, Where is the party at?" You got so stoked for a good night ahead but you don't know anything going on. Sure you could just have your own kickback but you really wanted to rage tonight! Well we have some tips to help you stay in the know.
Utilize the Web
It's the 21st century find parties the modern way! Sites like FiestaFrog.com have begun to focus on simplifying the task of finding parties close by. They allow you to use your location to find house parties, bar specials and concerts near by. They'll help you find out what's going on tonight in your college town! Another way to use to web to help you find parties is by using Facebook, duh! Scroll through your News Feed of what your friends have going on for tonight.
The Mass Text
If your crew is really stuck and hasn't heard of anything going on yet it's time to turn to your handy iPhone. Between you and your friends someone probably knows someone that is a known "partier" and has the low down on everything going on. If each of you send out a few texts you're likely to hear back with something going on. It's all about networking yourself into the party scene.
Other Interesting Articles