Top College Scandals 2010
By: The Party Guru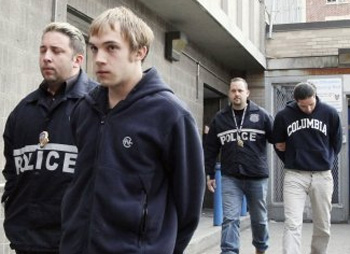 Sex, drugs, incest, cheating, theft, death. What else would you expect from the top college scandals of 2010? For all you high school seniors going through the admission process you might want to add these scandals to your pro and con list for potential schools. Read on for all the juicy details about these college scandals.
1. Tragedy at Rutgers University
The nation was shocked when Rutgers University freshman Tyler Clementi committed suicide in September. This happened after his roommate and a friend filmed a sexual encounter between Clementi and another male student and then allegedly posted it online. His death proved to be a catalyst for both educational and gay rights advocates who saw Clementi as yet another victim of homophobia and school bullying.
2. Duke's Infamous Fuck List
Karen Owen, a Duke University alumna, was thrust into the national spotlight several months ago when a document she had passed on to a couple of friends went viral. The document, in PowerPoint format, gave detailed information about her sexual exploits with other Duke students, including several football and lacrosse players. This deeply embarrassed and soiled Dukes good name.
3. Columbia Fraternities Major Drug Bust
Three Columbia University fraternities (Alpha Epsilon Pi, Pi Kappa Alpha and Psi Upsilon) were placed on suspension in December after several members were caught dealing illegal drugs as part of a major city-wide crime operation. According to the Columbia Spectator, Dean of Student Affairs Kevin Shollenberger said Greek organizations can be suspended if determined as " 'necessary to promote the best interest' of the chapter and the University."
4. Belmont Coach Forced to Resign Due to Sexuality
Belmont University in Nashville, Tennessee allegedly fired its women's soccer coach due to her sexuality. Lisa Howe claims she was forced to resign after announcing her plans to have a child with her same-sex partner. Belmont University released a statement saying the university and Howe reached a "mutual agreement" for her resignation. It seems this college will be branded for their lack of acceptance in our modern world.
5. University of Michigan's Student President Harassed
Michigan Assistant Attorney General Andrew Shirvell was fired from his position in November after publicly criticizing and stalking University of Michigan's first openly gay student body president, Chris Armstrong. Shrivell's now-famous blog described Armstrong's agenda as "radical" and "homosexual", and even suggested that the he was trying to recruit college freshman into "turning gay."
6. Girls Gone Wild At Miami University
Destruction of public property, underage drinking and sexual hijinks were just some of the many charges lobbied at Miami University sororities this last spring. The Ohio college eventually suspended the Zeta Tau Alpha, Alpha Xi Delta and Pi Beta Phi chapters following reports of their inappropriate behavior at their spring formals which included vomiting and urinating all over the Underground Railroad Museum in Cincinnati.
7. Student Majorly Scams Harvard
Harvard University was tricked by former student Adam Wheeler who not only duped the university into granting him admittance, but also got them to give him thousands of dollars in scholarship money. Wheeler pleaded guilty to charges of larceny and forgery, among others, and has been given 10 years. This definitely tramples a little on Harvard's reputation.
8. University of California San Diego Protests
UC San Diego battled racial tensions last spring after members of its Pi Kappa Alpha chapter threw an off-campus cookout and prompted guests to "dress ghetto." The event spawned an outcry from students and civil rights leaders, who believed the party was racist. Soon after, UCSD's student TV station ran a student group's defense of the event, which prompted the Black Student Union to declare "a racial emergency."
9. Black Sorority Uses "Slave" Tactics in Hazings
Sigma Gamma Rho Sorority, a member of the National Pan-Hellenic Council, has been under fire in recent months at two different universities for hazing incidents. Six young women from Rutgers University were arrested and eventually charged with hazing after a pledge made a hospital visit and claimed she had been beaten 200 times. I guess you never know what tactics Greek Life will use next in hazings.
10. Columbia University Professor Admits to Incest
A political science professor from Columbia University was thrown into the news when he was accused of incest charges. David Epstein, 46 years old, was involved in a 3-year relationship with his adult daughter. While Epstein insists the relationship was consensual, this only adds to Columbia's troubles this year.
Other Interesting Articles