Las Vegas College Partying
By: The Party Guru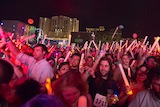 To some people, college life is not quite like how the movies portray it. There aren't endless frat parties and sorority girls don't just show up at your doorstep near nude, looking for a good time. These students see the duller side of university life, where exams and thesis papers take up most of their time and their weekends are spent working at some degrading part time job. We say those particular students, well, just aren't doing things right!
Your years at college are meant to be some of the wildest ones you will ever have, and seeing as how you are living in Las Vegas, there's no excuse why they shouldn't be. You're surrounded by people your age, everybody is looking for exciting ways to blow of some steam, you are, typically, thousands of miles away from your folks, you're minutes from the hottest nightclubs, and you're of legal age to drink... which reminds us, if you're not at least 21, you can should probably stop reading right here. The things we are going to cover in what's to follow aren't made for anyone under 21, and we don't want you reading about all the things you're missing out on just because your parents didn't consummate earlier. If you're on the cusp of 21, you may want to skim to get some ideas for that inevitable big bash that's coming. Otherwise, consider this a -under 21 need not apply- situations.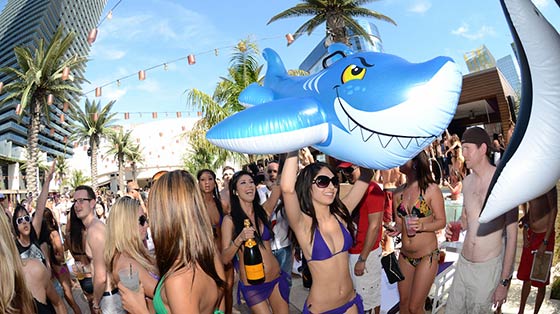 Sorry, where were we? Oh, right, the wildest years of your life. So, how do you plan on spending these alcohol- and party-fueled years? Are you going to, A) sit in your dorm, sucking back Miller 64's, or B) step outside into the real world and get a taste for what it truly means to party? We won't judge you if you go with option A, but your fellow students are going to assume you're a dullard with absolutely no social skills and you will inevitably go through college without getting laid or enjoying the fruits of even one frat party... So, we recommend sticking with option B.
You're really at an advantage, too, seeing as how you're living in undoubtedly the greatest party city in the country. Las Vegas is filled to the bring with nightclubs, strip clubs, dayclubs, and some really, really attractive people - and you should take advantage of every facet of the city that you can. Let's start you off with pool parties and dayclubs, as these are going to be the only way you're going to see the sun amongst all the "studying".
Party in the Light of Day
A dayclub is exactly as it sounds - a poolside nightclub that's open during the light of day. Las Vegas only introduced this trend a few years ago, but in that time many have popped up all across the city. Dayclubs and pool parties are essentially the same thing, with their only fundamental difference being how often they are open. When you hear us talk about Rehab, we are referring to a pool party that occurs every Sunday at the Hard Rock Hotel's Paradise Beach Complex. When we talk about Marquee Dayclub, well, we're talking about a daily venue that compliments the Cosmopolitan of Las Vegas Marquee nightclub. At the core, they're none too different, as both will feature a line-up of skilled DJs, a packed pool, and enough alcohol to drown the city of Vegas in.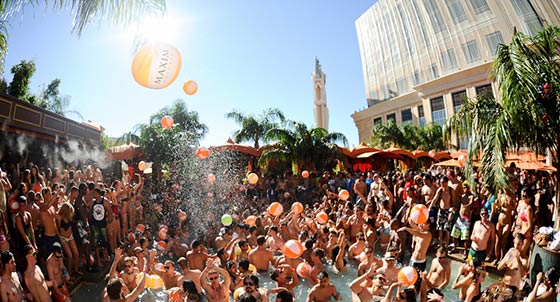 The above-mentioned daytime venue and party are just a small example of what's to choose from. Ever since the conception of the idea of the dayclub, numerous spots have popped up all over. Depending on the atmosphere you're going for, you can choose from a selection of dayclubs that includes Daylight Beach Club, Encore Beach Club, TAO Beach, Wet Republic, Bare Pool Lounge, and Moorea Beach Club. Those last two are a little special and unique in that they are European style, or better known as topless pools. Gals, this finally gives you the opportunity to bare what you've been gifted with without being labeled a whore or easy; and guys, if you're going to take pictures, be sure to get permission first!
So, that's Sin City's daylife. We don't so much advocate skipping out on classes to enjoy it, but it's something to consider when you're making your schedule for next semester. Maybe throw in a day off mid-week so you can enjoy the fruit's of Las Vegas' labor. Let's talk about why you're really here, though. Sure, partying during the day is fun and all, but the excessive heat and desert sun make it difficult to indulge without a risk of getting sick. At night, you're free to let all of your inhibitions go. If you're a mild mannered Math major by day, you can freely shed the checkered polo and pocket protector and let your inner wild child fly.
Cocktails In The Cover of Night
The biggest dilemma you're going to run into when looking to party in Las Vegas is simply where do you begin. From the Stratosphere all the way down to Mandalay Bay, you're faced with a countless range of nightclubs and strip clubs, all promising to provide you with an unforgettable night of entertainment. While we'd love to tell you which ones are worth partying at and which ones aren't, it really isn't that easy. Sin City's nightclubs pull all the stops, making each establishment a unique experience that really should be tried at least once in your lifetime.
Take a look, for example, at the VooDoo Lounge. This heart pounding venue rests 51 stories high in the exquisite Rio Resort and Casino. Overlooking the Las Vegas Valley and Sin City itself, VooDoo Lounge quite literally pits very little between you and a 51-story drop to the desert floor. Here, you can party in the desert's night air as this nightclub is without the walls and windows to keep it out. VooDoo sits atop the roof of one of the Rio's towers, so it should go without saying that this isn't a venue for the faint of heart.
If partying with the night sky overhead sounds like a great time, but you don't do so well with heights, then you want to look at Chateau at the Paris Resort. Though this nightclub has an indoor portion, it's garden-themed balcony is where the party flows out onto. While you won't get a bird's eye view of the entire Strip, you will get to watch the dancing Fountains of Bellagio from right across the street. Other clubs, like drai's, XS and Surrender, offer poolside outdoor spaces instead of balconies. Rent a cabana, lounge around, or simply dance the night away outdoors - how you enjoy these nightclubs is all up to you.
Top 5 Las Vegas Nightclubs:
Top 5 Las Vegas Nightclubs: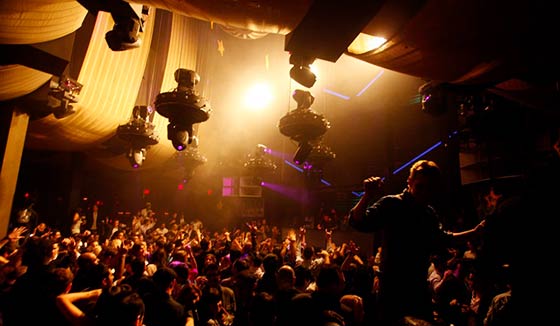 Of course, not every one of Sin City's party's takes place outdoors or on some sort of balcony. You've got clubs like TAO, Omnia, Marquee, and Hakkasan, which are exclusively indoor establishments. Don't think the party isn't as hot, though, as these popular nightclubs draw in a massive crowd on a nightly basis. There's always a line at the door of these 5-star establishments, and we have a little secret of avoiding that line, but we'll hold off until later to touch on it.
Essentially, if you have only one night to party, deciding which nightclub to spend it at is really going to be one of the toughest decisions of your life. Every one is attractive in its own way, so it's just a matter of figuring out what you're looking for. Do you want Hakkasan, a club that also houses a five star restaurant, Moon, a smaller establishment with a completely retractable ceiling, or Light, a club built on a collaboration from the famed Light Group and Cirque du Soleil, where acrobatics meet the nightlife? Luckily for you, being a local student, you've got yourself a direct line to all of these establishments at any time you want. Just remember - moderation. You need to pass your classes in order to remain a college students.
The Big Secret
So, now you know how to party as a college student in Vegas. We think it's about time we let you in on our little secret. How do you avoid the line at the door? How do you guarantee yourself a designated driver each night? How do you get VIP entry with a premium bottle service? It's called Bachelor Vegas, and it's the do all, end all in nightlife reservations. Through Bachelor Vegas, you will be treated to perks that no general admission entry will get you. VIP table? Check. Free bottle of liquor? Check. Complimentary lap dance at a strip club? Check. Shuttle service via limousine to and from campus? Check. It's all there, and it's all made extremely convenient and affordable via Bachelor Vegas.
Want to know which nightclubs are hosting events or want to plan ahead an end of the semester party? Head to bachelorvegas.com/nightclubs.html for complete details and the who, what, when, where, and how of Sin City's top nightclubs. With Bachelor Vegas, you can find yourself on the receiving end of Las Vegas' coveted VIP status for every nightclub you could think of.
Some After Hours Anatomy Lessons
We're not done with you yet; not by a long shot. We've yet to divulge our secret to no lines at the door and we haven't gone over one of the greater perks you receive by being a student in Las Vegas. Unlike some cities, Las Vegas has legalized strip clubs. That's right. Strip clubs. The perfect accompaniment to any lesson in anatomy that you'll ever get.
Sin City strip clubs aren't your usual dives that you see on TV, either. These establishments are like adult playgrounds - with bare chested women running about. Large and decorated to the nines, finding a disappointing strip club in Vegas is a lot like finding a needle in a haystack - or, in this case, a lot like finding natural breasts in a strip club.
The best part about a Las Vegas strip club is that most, like Sapphire, Treasures, and Spearmint Rhino, deliver a wide variety of girls to satiate all desires. Brunettes, red heads, blonds, au natural, enhanced, petit - if there's a flavor of it out there, Sin City's strip clubs will house it. You'll also probably be surprised to find that lap dances won't run you hundreds of dollars. Sure, there's a tip you'll have to add in, but you're typically looking at $20 per dance. Remember that secret we're hiding about avoiding the entry lines? Yeah, there's an added bonus in regards to strip clubs that we'll be sure to mention.
While most strip clubs are geared towards pleasing a more masculine crowd, there are a select few out there that know that the ladies of Vegas need a little entertainment, too. Olympic Gardens and Sapphire are known to have two very tantalizing male revues - Men of OG and Men of Sapphire, respectively. These shows, along with the much larger productions of Thunder from Down Under and Chippendales, provide plenty of sexy visuals for you sorority girls out there.
Other Interesting Articles