Luck of the Irish
By: The Costume King
St. Patrick's Day is always a day of drinking and college students take full advantage of this. Come the 17th of March tons of students flock to the bars at the break of dawn. If you aren't hitting up the bars this year take a look at our advice on how to throw a Luck of the Irish theme party. Dress in green and drink like the Irish!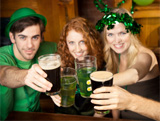 Setting Up
Green... Green and more Green! That's the key for decorating for this theme party. You can do this with decorations that are as cheap or expensive as you like. If you want to go cheaper put up a clover banner and some green streamers set the mood. If you want to go bigger then also put up shamrock-shaped party lights and change out your regular bulbs for green light bulbs. You can even throw some gold glitter around the room. To dress up your party a little more and provide snacks buy gold-foil-wrapped chocolate coins and put out some Lucky Charms cereal.

Alcohol
What would Saint Patrick's day be without drinks? Well we have a few ideas and suggestions to think about. First off, Beer! You have to make sure to stock up with a keg or a few thirty-racks. Also, make some Green Jello Shots. It's exactly the same as making regular Jello Shots except also add a little bit of green food die. If you aren't having a large party, more of a kickback with friends, than make up some Irish Coffees.
Drinking Games
Pass the Clover
This is a fun game that can be played throughout the night during the party. To start this game, pick one person at random to hold the clover. The person holding the clover is allowed to grant one wish that the other party goers must follow. This wish can be anything from hysterical to flirtatious and will create some good entertainment. Once the wish is fulfilled, the person has to pass it along to another guest. This new person has to chug their drink and the game continues.
Find the Pot of Gold
Before the party hide chocolate coin around the party scene. Whenever someone finds a gold coin they get to pick someone at the party to drink. This is a very simple game to play but can make for a little bit of fun while people are hangout at the party.

What to Wear?
Again, green is the way to go with your St. Patrick's Day attire. For girls, putting on little clovers with face paint is always cute. Also you can wear one of those "Kiss Me, Iĺm Irish" buttons. Deck it all out in green clothes and your set. For guys, all you need to do is wear a green t-shirt and wear some St. Patrick's Day beads. To go all out top it off with a green leprechaun's hat!
Send Us Your Party Photos
If you've thrown a party with this theme, please email us the photos along with your consent to use your photos on our website. We will publish it here.
Other Interesting Articles