Turkey Trot
By: The Costume King
Thanksgivings is known for gathering around with family for a great feast but its also a time to throw a college party back in your home town. Traveling home for Thanksgiving is the perfect time to call your high school friends for a get together. Whether it is just a pre-party before the bars or a rager we have some tips for you!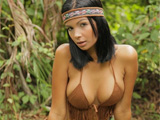 Setting Up
For this theme party you can decorate and setup as much or as little as you like. This party can either just be a typical college kickback before a night out at the bars or you can throw a huge thanksgiving party. The best way this is done is by decking your place out in a bunch of fall and thanksgiving decorations. But the real way to set your party apart is with having a good selection of food! Make sure to give your guests a mini feast with all the traditional thanksgiving foods like turkey, stuffing and pies. You can even have you guests Bob for Apples in the traditional harvest time game fashion.
What to Wear?
Looking for ideas on what to wear for a college thanksgiving party? Have your guests dress up as Indians or Pilgrims! Either of these costumes both guys and girls can wear. As a guy if you decide to dress up as an Indian (Native American) you get to show off your physique by wearing a loincloth and a hat made of feathers. For girls wanting to dress up as an Indian you also have a chance to show a little skin! Girls can wear a loincloth for bottoms, a brown bikini for a top, hair braided to either side and a large feather in your hair. If you decide to dress as a pilgrim wear the traditional pilgrim hat and costume.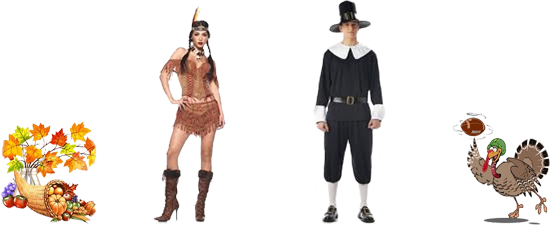 Send Us Your Party Photos
If you've thrown a party with this theme, please email us the photos along with your consent to use your photos on our website. We will publish it here.
Other Interesting Articles