GI Joes and Army Hoes
By: The Costume King
Most people have the utmost respect for military personnel and like to do what they can to show their respect. Others simply like the clothing they wear and the thought of being able to carry a fully automatic rifle without any legal repercussions. With the GI Joe and Army Hoes party, you'll get the chance to both honor the country's military forces and dress yourself up in the military attire of your choice.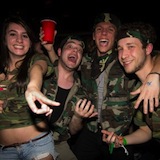 Setting Up
Since this is a military based party, it may not be a bad idea to have a few specific items adorning your walls. Somewhere in the World Wide Web, you will have no problem finding U.S. Army banners - even customizable ones that you can personalize to have your school name added. Spring for one of these banners and an American flag or two and you've done your part in decorating. Where this bash really shines is in what everybody decides to wear.
For the drink choices of the evening, there aren't many specifics that you need to worry about. When you think of military personnel, though, you probably think of a good, cold brewsky. Stock up on domestic beers - keep away from that imported crap for this party - and serve them in camo-designed cups. For a little added flair, you can even shake up some mixed beverages inside of an authentic canteen.
What to Wear?
Let's start with the Army hoes, since they can have all the fun they want with this. Costume shops all over the internet sell variations on all walks of military uniforms. From two-piece camo-designed skirt and tops to a more dress-like variation on any military uniform (complete with plenty of cleavage), the possibilities seem endless. You can even just purchase camouflage fabric to create yourself a small ensemble. Since you want to honor your military in the best way, you may want to go with something as slutty and as revealing as possible.
Authenticity is key when it comes to the GI Joes. Any Army / Navy surplus store can make for some rather simplistic one stop shopping when it comes to preparing for this party. Authentic boots and Army jumpsuits can be found for very reasonable prices. You can even go the "cheaters" route and throw together an outfit made from a camouflage t-shirt, khaki pants, and your everyday steel toe boot. No matter which you decide to go with, you'll be dressed for the occasion.
No matter your sex, it's important to remember one key word - Camouflage. So long as you're dressed in some form of camo shirt, pant, skirt, sports bra, or even just a bandana, you'll be ready to party down with your fellow Joes and hoes.
Send Us Your Party Photos
If you've thrown a party with this theme, please email us the photos along with your consent to use your photos on our website. We will publish it here.
Other Interesting Articles