Sports Theme Party
By: The Costume King
Every Sunday during football season, chances are you and your pals get together to have a little party with some hot wings and a big sandwich. Thatís all fine and well, but why wait for football season to get your sports fanatics together for a little celebration? With the sports theme party, you can honor your favorite team without having to worry about whether or not youíll be making the walk of shame after the game ends.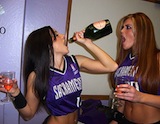 Setting Up
Like any sports event, this one should revolve around the food. Chips, dips, wings, and a few foot long heroes should be your extremely delicious decor. Being a college student, surely you know how much your friends are capable of eating, so donít be afraid to ďover stockĒ on your food choices, especially the alcohol. For this event, youíre going to want coolers, kegs, and mini-fridges filled with nothing but beer. Budweiser, Coors, Samuel Adams - anything you can get your hands on. You can bet that these are going to go quick once people get into the sports rage
Being a party for sports as a general topic, you donít have to worry about catering to one specific team with your decorations. Pick up a few banners for some of your local teams, making sure to honor any local teams your college may house.
If youíre going for an all-around sports theme, be sure to include little nods to these well known pasttimes:
Football
Soccer
Hockey
Basketball
Baseball
Tennis
Nascar
Golf
If youíre lucky, your party will fall on a day where there actually are some sporting events being aired. Have them playing in the background as noise to fuel the theme or set up a seating area where these games can be watched.
What to Wear?
This should be fairly straight forward - Jerseys, authentic shirts representing your favorite teams, replica uniforms. Youíll want to wear anything that represents some form of sport and sports team that you may favor
Die hard sports fanatics may want to even go the extra mile and invest in full on sports gear. Throw on shoulder pads and a Giants helmet for football or show up with a glove and baseball in your hands. Show your devotion to your favorite team / sport by taking the extra time to dress to impress.
For the gals of the party, sports like basketball and football would be nothing without the cheerleaders. Pull out your high school cheer uniform or invest in one on-line and youíll be the focus of the night all night
Send Us Your Party Photos
If you've thrown a party with this theme, please email us the photos along with your consent to use your photos on our website. We will publish it here.
Other Interesting Articles