Hawaiian Luau
By: The Costume King
Fruity beverages, fire-roasted pig on a spit, and the cool ocean breeze are all indications of a really good vacation. Unfortunately, you're stuck inside a college dorm room studying for next weeks finals. You can bring a few of those elements into your boring college life with a Hawaiian Luau. Mix up bright colors with a tropical feel, and you'll be feeling like you're at the beach in no time.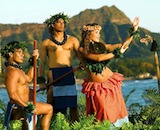 Setting Up
Indoor
When one thinks of Hawaii, typically they think of palm trees, coconuts, sandy beaches, and a gorgeous view of the ocean. These are the elements you'll want to incorporate into the setup of your Luau. For the palm trees, you can stock up on decorative and blow up replications of the tropical plant life and scatter them about the room. At the base of each tree, feel free to lay out a coconut or two. For the coconuts, you can go real or fake without breaking the bank. Now, the sandy beach is going to be your trickiest feat.
If you have a large enough space and have the creative gaul to do so, you can build yourself a removable sand pit. Make it large enough for one or two sets of couples to lay out in. You'll want to place this sand pit near a wall which, thanks to the modern conveniences of party supply stores, will be adorned in a "ocean setting" wall scroll. If you can't afford yourself a sand pit, than you can just lay out a few beach chairs.
Now that the most difficult part is out of the way, it's time to set up the "luau" aspect. Strands of bright flowers, paper lanterns, and a few scattered Tiki men are going to be your staple decorations. You can tone down the lighting by utilizing scattered paper lanterns and create a more intimate setting.
If you can find the outdoor space to have your luau in the night breeze, than that is the more recommended setting.
Outdoor
You can utilize the same concepts for an outdoor luau as you did for an indoor bash. You can set up a sand pit to avoid having to spread sand all over the ground. One addition to the outdoor luau can be tiki torches, which act as both light and a bug repellent. If you've got the resources, than you can even set up a pig roast for that complete authentic feel
The Drinks
Everything you serve should be done so in coconut mugs. These can either be real, hallowed out coconuts or plastic ones from the party store. Fill these novelty glasses with fruity beverages, Mai Tais, and Pina Coladas.
What to Wear?
Hawaiian shirts, hula skirts, and coconut brassieres should be the bulk of the attire. Men should stick to white cloth pants / shorts while women should look to tropical dresses or grass skirts. At the entrance to your party, you'll want to have somebody stationed to hand out leis to guests as they arrive.
Send Us Your Party Photos
If you've thrown a party with this theme, please email us the photos along with your consent to use your photos on our website. We will publish it here.
Other Interesting Articles