Paint Party
By: The Costume King
Have a little artistic bug inside you that is just itching to get out? Don't have the inspiration to sit down in front of an empty board and conceptualize your ideas? Well, I guess you could always just throw paint at everyone you know and make them your own personal paintings. With the paint theme party, that's exactly what you'll wind up doing – and they'll actually let you do it! Be wary, though, as the artist is likely to become a part of the art before the night is through.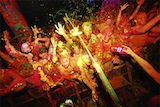 Setting Up
The first rule of setting up for a paint party is to consider the space. You need enough of it for your guests to be able to move around pretty freely. Though you may have enough room in your space, you have to ask yourself "Do I like my stuff?" If the answer to that is "yes", than you do not want to throw the paint party in your own private abode.
Where you end up partying determines this next step. If you're going to party in an indoor space, you will want to invest in some form of protective floor covering; one that doesn't move around too much underneath you. Simply put, you don't want to be replacing a venue's floor just so you can throw some paint around. The best place for this type of shindig is, of course, outside. You practically have complete free reign over where the paint winds up going and cleanup afterwards isn't really necessary. Decorate your space with a few white sheets to give guests the opportunity to have some non-living "canvases".
As you and your guests will be coating one another in paint, make sure you stock up on plenty of it. Needless to say, invest in something non-toxic. Color-wise, you want vibrant colors. Neon paints, bright yellows, bright oranges, bright reds, anything that stands out. You want your guests to just stand out completely.
Don't go crazy over music. Play what feels appropriate. Rock, techno, electronica – anything that has a beat and people can move to. Same goes for the party's beverages. It doesn't matter what you drink, just make sure that it's something covered and with a lid so there's no chance of paint getting into it.
What to Wear?
Wear shit you don't like. That's the first and best bit of advice you can get. Go for light colored clothing, preferably an entire outfit of white. You want these colors to stand out so you can mingle in with the rest of the walking canvases you'll be partying with. If you want to be completely covered, from head to toe, you can pick up some cheap white loafers and an all white hat.
If you're hosting, you may want to buy a supply of cheap white shirts that people can throw on if, for some reason, they don't show up in one.
Send Us Your Party Photos
If you've thrown a party with this theme, please email us the photos along with your consent to use your photos on our website. We will publish it here.
Other Interesting Articles