Pajama Party
By: The Costume King
Hugh Hefner has no problem getting away with it, so why shouldn't you? Dressed every day practically in his pajamas, the creator of Playboy may be onto a lifestyle that everyone should start following - and with the Pajama party at your next college bash, you can start this marvelous trend. In middle school, the pajama party may have been a silly night that ended in a harmless pillow fight. In college, you could be looking at the sexiest party of your life, but you'll need to leave the alcohol out of it.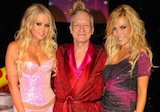 Setting Up
Pillows and comforters - that's all you need to worry about. To set up the party space, you'll want to throw out a mess load of pillows on top of a stretch of comforters, sleeping bags, and any other sleeping apparatuses you can come across. While you may not be sleeping in these areas, this set-up sets the mood for the night and gives everybody more incentive to show up in their favorite pajamas.
The catch to a pajama party is that you won't be finding your hands wrapped around a cool glass of any hard liquor. This party will bring you back to the good 'ole days of your youth where alcohol wasn't the easiest thing to come around so you were stuck sucking back alcohol-free mixers or some really light wine coolers. If you're going to break these rules, try to stick with a drink that resembles something that may be found at a pajama party, such as adult chocolate milk (a cream-based liquor infused with vodka which can be found in most liquor outlets).
What to Wear?
This should be fairly self explanatory. Break out some of your favorite PJs and slap them on your body. No gimmicks, no catches - just some good 'ole fashion trotting around in your pajamas.
Guys can choose between anything from boxers to full on flannel pajama pants, but anybody attempting to make an impression is going to want to stick with the motto of "less is more". Boxer shorts and a white wife beater may be exactly what the female party-goers are looking for.
Girls have several styles to choose from - super sexy to tantalizingly innocent. A full pajama set may not be the sexiest thing ever, but it exhibits a certain innocence that some guys may swoon over; whereas a teddy or even a simple pair-up of a bra and panties will leave little to the imagination and get the heart's of men pumping.
Send Us Your Party Photos
If you've thrown a party with this theme, please email us the photos along with your consent to use your photos on our website. We will publish it here.
Other Interesting Articles