Top 5 Nightlife Districts
By: The Party Guru
This list is the all too often overlooked ridiculously cool nightlife districts from around the country. When deciding to highlight some of our favorites, we decided to skip the obvious. Sure, everyone knows that New York is wild, Miami is sizzling, L.A. is over the top fun and lets not even get started about Vegas. But friends, there is so very much more fun to be had in this country!
Denver's South of Colfax Nightlife District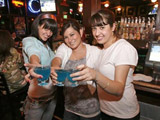 This nightlight district is so cool that it even has its own website to keep your party going. Bordered by Lincoln, Speer and Colfax, this lively area is comprised of nightlife venues all within walking distance of one another. Locals will all agree that this is Denver's hottest club district with partying to be had every weekend.
One of the best parts is that revelers can pay just one entrance fee at any of the districts venues on a Friday or Saturday night and then club hop all night long, enjoying House and Reggae, Hip Hop and R&B, Top 40, Drum & Bass, Salsa and Meringue, live Blues and Jazz, and more at all the different clubs. Some of our favorites include Vinyl, Bar Standard, and The Living Room (which, you might want to note, also serves some mighty fine tapas).
Chicago's Wicker Park-Bucktown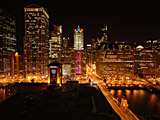 This district is home to a diverse mix of Chicago artists and students who moved into the area lured by its affordability and proximity to "the Loop." As follows the urban pioneers, more and more Chicago bars and restaurants, shops and clubs have opened in the neighborhood creating a vibrantly new and exciting vibe.
The area caters to an increasingly diverse and balanced mix of people, truly offering something for everyone. The heart of its nightlife district runs along N. Millwaukee Avenue. Here you can find some of our best Chicago nightlife picks in a relatively small area. Beachwood Inn, Wicker Park Tavern, and the infamous Estelles Cafe Lounge, are all very worthy destinations.
Seattle's Pioneer Square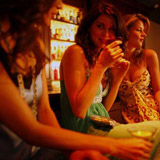 Though many folks head to Seattle's Pioneer Square for club-hopping fun (here, like Denver, a stamp on your hand equals one cover charge for a number of clubs), we are charmed by Belltown. Located on the city's downtown waterfront, Belltown is a classic Seattle nightlife district with some of the oldest bars in the city. Perhaps ironically, it's this old location that draws the new, hipper, "in the know," early 20's crowd. >
A little more upscale and stylish that Pioneer square, the small area keeps everything close, so you can easily bar hop all night long. Some of the most classic, old Seattle nightspots that you should not miss are: The Rendezvous, Mama's Mexican Kitchen, Lava Lounge, and Shorty's.
New Orleans's French Quarter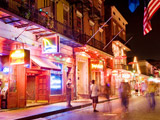 New Orleans's French Quarter might seem too obvious to have a thriving and authentic nightlife scene, but skeptics be gone! Even if you've seen the words Bourbon Street more often on T-shirts than on street signs, your well-meaning doubt will most certainly be washed away with all the great options available on this infamous street.
Known as the best karaoke bar in New Orleans, The Cats Meow is always a good place to loosen up. The music ranges from a progressive mix of 50's through today's hits, disco, classic rock, swing, dance, hip-hop, and Top 40 tunes and they have (not 2, but) 3 for 1 daily happy hours. The 544 Club features bands performing live music for free every night. If you really want to tear up the dance floor, head over to multi-level space, The Hookah House Cafe.
Austin's Market District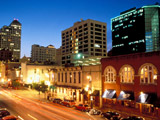 Austin's Market District has a nightlife as big as Texas, with its pumping heart located in the seven block's of 6th Street, between Congress and IH 35. With overflow onto the neighboring streets, 6th Street is the epicenter of Austin's famously awesome live entertainment scene and the capital of "third coast music."
Sixth Street is known for it's eclectic crowds including endless streams of mostly single UT students, some interesting street performers, droves of out of town visitors and even the occasional celebrity. It's not uncommon to spy some celebrity type taking in the sights on 6th. As one local puts it, you'll see cowboys and punks, surfers and suits. On Halloween anything goes, and during Mardi Gras, everything goes!" You basically can't go wrong in this district, but here are a few recommendations to get you started. TripAdvisor will give you a real, live taste for the thriving country music scene, while Elysium, voted the best dance club 5 years will feed you a steady stream of top notch DJ's. With similar accolades, Buffalo Billiards has been named the nation's best new pool hall by Billiards Digest. Fantastic food and drink, plenty of pool tables and a nice, Big Easy chill.
Nothing beats Sin City, Vegas Baby >>
Other Interesting Articles