Top Spring Break Spots 2012
By: The Party Guru
Classes are a drag and after a hard few months studying everyone needs to get away. We have this years list of the top ten best places to go party and relax for spring break. Details like boy to girl ratio, average temperature, number of MTV appearances and how many miles of beaches will help you make your decision. Our friends over at HostelBookers have some great deals on places to stay for your trip.
1. Cancún, Mexico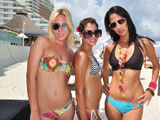 Like your beach condos and bikini bottoms high-rise? Cancun's well-stocked shot girls aid your descent into delicious margarita-fuelled delirium. There are beaches for 14 miles, the average temperature is 77 degree Fahrenheit and MTV has made 7 appearances. Please exit via the water slide.
2. Las Vegas, Nevada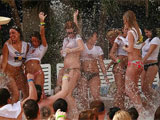 What sequined Sin City lacks in beaches it makes up for with bouncing bikini babes strutting about the MTV 2012 spring beak pool parties. The local drink is a Scorpion and in Vegas the party never stops. In Vegas a drink might cost you an arm and a leg but you'll definitely have a good time. There is no sign of a drought in this desert! Visit Vegas VIP's Pool Parties Schedule
3. Puerto Vallarta, Mexico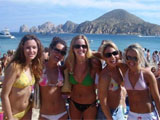 A sexy beach town with the cosmopolitan edge, this town has a great club nightlife. Bathe in emerald seas and, as the sun goes down, clean up your act in a bump 'n' grind foam party lather. A beer is cheap at only $1.18, the boy-girl ratio is 1 to 1.6 so its great for all you guys out there and with 38 miles of beaches you can't go wrong.
4. Panama City Beach, Florida
MTV might have been chased out of PCB after three appearances but for many students merry-makers, the turbocharged hedonism plays on. There are 27 miles of great beaches to party on all day, the boy-girl ratio is close to one to one and the local drink is a screwdriver. Get ready for some fun in the sun!
5. Acapulco, Mexico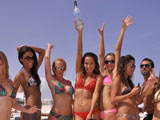 The original Mexican party town. The drinking age is a glorious 18 and if Elvis had fun in Acapulco, so will you. Drug cartels? What drug cartels? Just stick to the tourist Golden Zone. Beers are really cheap at only 75 cents, the average temperature is 79 degrees and there are twenty great miles of beaches.
6. South Padre Island, Texas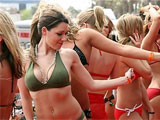 The largest beach party on Earth? It's Coca-Cola Beach on South Padre Island. This is the spring break destination of choice for Rolling Stone - two thumbs up for the dolphin-watching cruise. With 66 miles of beaches and an average temperature of 68 degrees you are sure to have a great time at this spring break destination.
7. Miami, Florida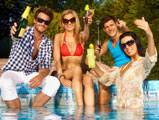 Whoop whoop. I'm going to Miami... even the most elusive shades offer little protection from the bright lights of South Beach, tangerine sun gods and the candy-cotton Art Deco beachfront. The local drink is a Mojito and with 35 miles of beaches you're sure to have fun.
8. Daytona Beach, Florida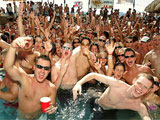 First Girls Gone Wild then MTV; spring break teenage debauchery pretty much sprung from Daytona Beach. This is probably where your mom and pop really met for the first time. Relax and party on the 23 miles of beaches, then have the favorite local drink a Pina Colada. Also, with a great boy-girl ratio you can't go wrong!
9. Los Angeles, California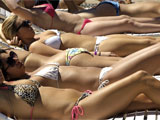 Austrian bodybuilder becomes 38th Governor of California?! Dang, anything is possible here. Oil up, ride the waves and cruise this palm-fringed town where everyone can feel a million dollars. There are over 70 miles of beaches and tons of great clubs to go party at night.
10. Fort Lauderdale, Florida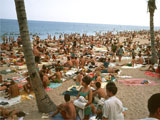 TIME magazine reported that the innocent athlete training sessions of 1936 became a "Beer & the Beach" bacchanal. Bloody Mary for breakfast anyone? It's tradition at Fort Liquordale. Drink up as you relax in this warm beach weather. Learn how to play the game Spring Break Trumps based on these spring break places.
Other Interesting Articles