Lawyer Bros & Prison Hoes
By: The Costume King
Guys, there is no greater fantasy than having a woman that is simply your prisoner. You control her, get to tell her what to do; she is yours to punish for her crimes, and what dubious crimes they were! While this college party theme won't quite give you that power, you at least have the satisfaction of seeing some sexy vixens dressed in scant prison garb - it's almost the same thing, right? With the lawyer bros and prison hoes party theme, it's a night filled with determining who is guilty and imagining what punishment you would bestow on them.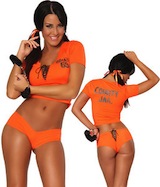 Setting Up
You have two options for setting up the ambiance for this theme. You can either give the room a "prison"-like feel or dress it up to feel more like a courtroom. Honestly, you'll probably have more fun getting the event space to look more like a prison than a stuffy courtroom. Wall clings can be purchased online to give the allusion of cells and some hefty "security" at the door will give the allure that these prison hoes are quite the dangerous bunch.
One quirky thing you can add on to this theme is handcuffs. These gals are breakers of the law, so why not treat them as such? With each prison hoe that walks in, handcuff their hands together so that they have to rely on their "lawyer" to escort them around the party. You can go for leg shackles, too, but you don't want to limit their mobility that much.
It doesn't really matter what alcohol you decide to indulge in, as long as it is something that is easily drunk with handcuffed hands. This may be a good occasion for some simple red cups and a couple of kegs. If you're going to go for the handcuffed prisoners, don't supply anything glass. You can expect quite a few drinks to slip here and there.
What to Wear?
Gentleman, you will want to show up in your best lawyer garb. A suit, tie, dress shirt, dress pants, and / or dress shoes, armed with a very important briefcase. Amplify the look by making yourself look a little disheveled, as if you've been working around the clock on a mess of different clients.
Gals, you get the opportunity to dress as slutty as possible, so long as what you wear is some form of prison outfit. Shop online at any costume store and you could easily come across several dozen variations of a prisoner's costume. The sluttier the better, of course, as you want to show just how badly you need to be locked up.
Depending on whether or not you decorate the space, you may actually consider throwing in a few more characters. A warden, for one, will overlook his prisoners as they come in. You could also have your doormen dressed up as guards as they handcuff the prisoner hoes upon entry.
Send Us Your Party Photos
If you've thrown a party with this theme, please email us the photos along with your consent to use your photos on our website. We will publish it here.
Other Interesting Articles